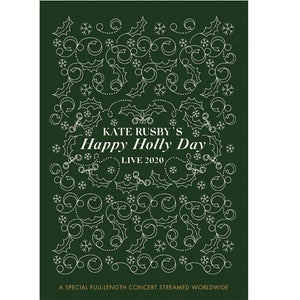 Happy Holly Day Live DVD (2020)
Regular price £15.00 Sale
Happy Holly Day, Live DVD PRDVD66. Recorded December 2020
In 2020 Kate Rusby was determined to bring the joy of the usual Christmas tour to the comfort of everyone's homes with a special delivery of a full-length concert streamed worldwide and this is your chance to see it. 🎶 🎄 ⭐️ 🎉
This Kate Rusby Christmas Concert perpetuates the tradition of Yorkshire carols, specific carols sung in the crowded pubs of South Yorkshire for over two hundred years. Christmas songs old and new with a bit of Yorkshire humour thrown in.
Joining her on stage for this concert is a top-flight brass quintet affectionately known at The Brass Boys and, as ever, her hugely-talented and intuitive band of musicians. Everyone gets a front row seat for Kate Rusby's Happy Holly Day!
Track List:
Hark Hark
Deck The Halls
Sweet Chiming Bells
Here We Come A-Wassailing
Paradise
Sunny Bank
Hippo for Christmas
Little Town of Bethlehem
Holly King
Christmas is Merry
Kris Kringle
Let The Bells Ring
Boys Tunes
(Cut and Shut / Brown Eyes / Frantic Inspiration)
Joy To The World
Winter Wonderland
ENCORES
Sweet Bells
Yorkshire Merry Christmas
Price includes UK shipping.