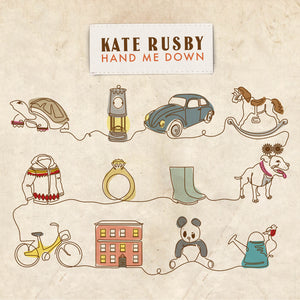 Hand Me Down Vinyl Repress, 28.08.2021
Regular price $37.00 Sale
Hand Me Down (Vinyl)  PRVIN63,  Available from 27th August 2021
This limited edition vinyl release is a double disc pressing on 180g heavyweight, translucent ORANGE vinyl. The beautiful record sleeve is a gatefold design to fit both LPs. 
NB: This 2nd pressing is not numbered.

Featuring the BBC Radio 2 playlisted single Manic Monday
Kate Rusby's brand new album, Hand Me Down, started life a few years ago whilst she was rehearsing for the Jo Whiley Show on BBC Radio 2. Jo asks her live music guests to perform songs of their own plus a cover and are given free rein to choose which that song will be.
There is no more perfect a time for an album like this, more fate than design though. Kate hopes these songs will bring a smile for people who hear them, the recognition, the chance to sing along, comfort and the memories attached to each and every one of them. "Just forget the world for a moment and let the music in." Kate says, "Music is such a powerful potion, it can't heal the world but it can heal the heart, even for a fleeting moment."
Price includes UK shipping.