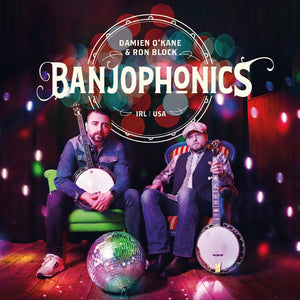 Banjophonics -Out Now
Regular price $17.00 Sale
Banjophonics (Damien O'Kane & Ron Block)  PRCD56
Release Date 1st July 2022
Banjo brothers-in-arms return with second album 
of fizzing Irish-U.S.fusion
Four years on from their debut album, Coleraine's Damien O'Kane and California's Ron Block will revive their spectacular partnership in a second release celebrating the unbelievable scope - in their brilliant hands - of the humble banjo.
A perfect, exuberant antidote to these troubled times Banjophonics is an out-and-out riposte to low spirits, guaranteed to put a smile on your face whilst toasting the importance of family and friends.
Now the bumper 13-track Banjophonics of originals and covers builds on a growing connectivity the musicians have found, fusing their styles and putting the Irish tenor banjo and five-string bluegrass banjo centre stage.  It's a joyous, life-affirming joust, barely pausing for breath – fast, frenetic fireworks punctuated by more reflective melodies. And it's not totally a tunes album; it offers two songs where O'Kane and Block showcase their contrasting, fine voices and also add backing vocals to each other's track. 
Price includes UK shipping.